Shanghai magnate plans hotel on $53m Auckland site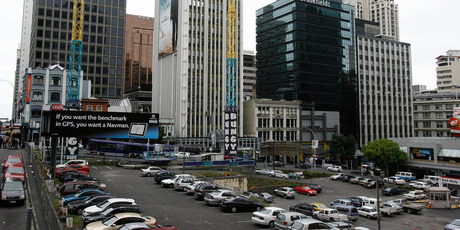 By Anne Gibson of New Zealand Herald
5:30 AM Tuesday Jul 17, 2012
A multimillionaire Shanghai businessman has bought a long-vacant site in Auckland's CBD and is planning a five-star hotel tower there.
Furu Ding of the wealthy New Development Group paid $53 million for one of the central city's biggest empty sites at 106 Albert St, the former Royal International Hotel site, now a carpark spanning Victoria St West and Elliott St.
The site has been empty since Chase Corporation demolished the hotel and planned to shift the Farmers department store there from Hobson St.
Various plans in the past three decades amounted to nothing and in the last property boom, Korean developers Dae Ju wanted to build a $450 million 67-level skyscraper almost as tall as the Sky Tower for the Rugby World Cup.
But that development never eventuated and the site has been for sale for some time, with consents in place allowing for a large tower.
Queen City Law's Marcus Beveridge, Dae Ju's lawyer, said he acted for the vendor.
"The transaction took two and a half years and we are now doing some things for the new purchaser," Beveridge said.
NDG Asia Pacific (NZ) is now registered on the property's title, having bought the freehold site from Victoria Tower Developments. Ding has other land holdings in New Zealand and his New Development Group is in real estate development, the hotel business, the wood industry, storage and warehousing, trade and financial investment.
"Possessing 16 subsidiary companies with total assets up to over 10 billion RMB [$1.96 billion], the group contributes annually to the national taxes of 500,000,000 RMB," NDG says.
A New Zealand arm formed in 2009 wants to build high-class housing projects and get into luxury hotel construction.
It has 1820ha in northern Auckland and a 4417sq m site for a five-star luxury hotel in the Auckland CBD, NDG's website says.
In China, Ding's business already owns the 32-level Shanghai Marriott Hotel Changfeng Park, opened in February 2010, and in Singapore it has Shanghai New Development Sentosa Hotel opened last year.
For a full copy of the article online, click here. For a pdf copy, click here.
For further enquiries on construction law, please feel free to contact Marcus Beveridge on marcus@queencitylaw.co.nz / 0274 877 332.