http://www.nzherald.co.nz/news/print.cfm?objectid=10796014
5:30 AMMonday Apr 2, 2012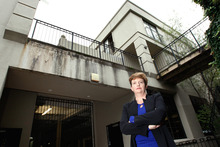 Robyn Horsfall says the quality of work on the leaky Parnell apartments exceeded that allowed for in the settlement. Photo / Brett Phibbs
About $10 million has been soaked up fixing a rotten Parnell townhouse block developed over an old textile warehouse.
Farnham Terraces was developed by various Symphony companies of former rich-lister and ex-Chase boss Colin Reynolds.
A big portion of the money come from Auckland Council ratepayers, although neither the council nor the owners will say how much.
Owners have been moving back into their places since the start of last month, after being forced out for a year while it was torn apart.
Townhouse owner Robyn Horsfall said owners had settled with the council at mediation in October 2010.
"It took several months to translate the settlement into a construction contract with Robert Cunningham Construction. We needed construction experience so used Queen City Law.
"We handed over the entire complex with vacant possession to Cunninghams on March 1 last year for 12 months of repairs and rebuild. All tenants were given notice and all owner occupiers had to find somewhere else to live for the 12 month period. We employed a project manager from N-Compass to manage the works from our end and any issues and general sign off of works was handled by the engineer to the contract from Peddle Thorpe Aitken," she said.
Practical completion and code compliance certificates were issued at the end of February and the complex and keys handed back on March 1.
Owners spent extra funds on maintenance which had been delayed due to leaks. They also opted to spend an extra $340,000 on a better cladding system than the settlement allowed for.
"All owners were very keen to ensure that not only the stigma of leaky buildings didn't follow us but also that the cladding used was considered top-of the-line for anyone wanting assurances when buying into the complex."
The works included replacement of walls, some ceilings and timber; recarpeting and painting; extra drainage; replacing and upgrading the fire system and recladding.
SAGA ENDS
* 41-unit Parnell townhouse complex.
* Dispute settled before High Court hearing, big council payout.
* About $10 million to fix.
* Residents now back after a year away.